PURPOSE OF REQUEST FOR PROPOSALS (RFP)
To support its formal launch, Resilience Action Network Africa (RANA) — is seeking to partner with an Africa-based agency to create a brand style guide and website.
This project is twofold: Phase 1 will focus on the creation of the brand style guide. Phase 2 will leverage that style guide to create a website for RANA.
ABOUT RESILIENCE ACTION NETWORK AFRICA
RANA is an emerging African organization which serves as a collective of like-minded organizations driven by a vision of an Africa where the health resilience of all countries is safeguarded through African-led solutions, informed by African needs, and driven by African leadership. We are an independent, Kenya-based African advocacy network built to uniquely fill African policy and advocacy gaps to advance the emergence of local institutions and agencies with capacity to realize the vision of the African Union's New Public Health Order. With a unique collective advocacy model, RANA is a network of allied networks, connecting national and regional priorities with global processes while delivering policy, advocacy and communications acumen, convening power, and Network impact across issues, sectors, expertise, and geographies.
Evolving from Pandemic Action Network's unique collective advocacy model, RANA is an independent non-governmental organization. RANA continues to work in close partnership on mutual priorities with Pandemic Action Network (PAN), a fiscally sponsored project of Panorama Global.
PROJECT BUDGET RANGE
Final project budget will be based on proposals. We are seeking proposals with tiered pricing with phased approaches (i.e., phase one and phase two, etc.) or budget options (i.e., low, medium, high). 
TIMING OVERVIEW
Phase 1 "Brand Style Guide & Logo Development": Estimated launch Monday, September 26, 2023
Phase 2 "Website": Estimated launch November 2023
RESPONSE REQUIREMENTS AND GUIDELINES
Agencies interested in participating in this RFP must notify intent to bid no later than Tuesday, August 15, EOD EAT. Proposals should include an overview of recommended approach, case studies with past experience, two references who can speak to your work, budget, and an anticipated high-level project timeline to include project management for branding, design work, development, and testing across browsers and devices through to deployment. By indicating an intent to bid, you understand that an overall assessment of proposals will take into account the following criteria:
Experience working on similar scoped website projects
Availability/capacity to commence work immediately
Proven ability to manage projects with tight timeliness that are on time and on budget
Submit proposals no later than Monday, August 21, 12pm EAT, via email to Courtney Morris at Courtney.Morris@PandemicActionNetwork.org.
PROPOSAL & REVIEW TIMING (subject to adjustment)
Wednesday, August 9: RFP publicly issued
Tuesday, August 15: Deadline to declare intention to participate by email
Wednesday, August 16: Deadline to submit questions (staff will respond to questions within 2 business days)
Monday, August 21 (12pm EAT): Deadline to submit proposals
Week of August 28: Agency interviews/meetings (as applicable), agency selection
Week of September 4: Project kick-off
PHASE 1: BRAND STYLE GUIDE & LOGO DEVELOPMENT
BRAND STYLE GUIDE GOALS
Guide cohesive communication of brand voice
Establish visual brand consistency
Create a distinct, cohesive brand style guide that reflects RANA's mission & vision
Generate brand assets that are immediately scalable/translatable to web content
KEY CONCEPTS TO INFORM THE BRAND IDENTITY
Network of networks
Credible
Cross-issue, cross-cutting
Go-to (as in, go-to resource)
Resourceful
Afrocentric
Inclusive
PRIORITY AUDIENCES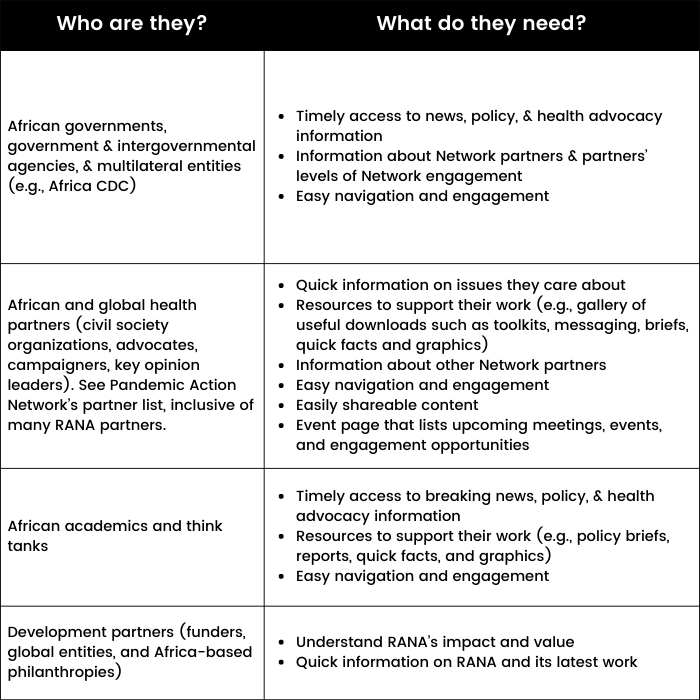 STRATEGIC APPROACH
Brand style assets should have a common look and feel that reflects RANA's mission and vision
Brand should appeal to diverse, cross-cutting group of target audience members
KEY DELIVERABLES & SUCCESS FACTORS
A logo, logo guide, and logo color variations
A color palette
Typography
Visual Point of View, including photography (avoid overly stock photos and aim for common graphic design, which will require purchasing imagery), and vector art and patterns
Brand style guide assets must be flexible and translatable for web, print, desktop, and mobile access in low-resource settings (i.e., areas with limited wifi)
RESOURCES
PHASE 2: WEBSITE
WEBSITE GOALS
Clearly tell our story; explain our value proposition as a unique, cross-issue and cross-cutting convenor of an African-led network of networks to public/potential partners and funders
Demonstrate credibility and trustworthiness through easily accessible, regularly updated, and high-quality content
Share information and amplify partner voices
Create a vibrant space for African partners to connect with RANA and each other
Be a resource for governments and policy & advocacy implementers (through briefs, advocacy letters, news, and insights)
Demonstrate thought leadership by making meaning of complex and dynamic issues in simple, digestible, and shareable ways (blogs, op-eds, short video, audio, or graphic content)
Present impact to potential/current funders and public (via communications campaigns + impact reports)
STRATEGIC APPROACH 
Ensure that the homepage clearly tells RANA's story in one place, including why we exist, how we work, what our brand looks like, and who we are
Partners and the power of working with our African-led network of networks must be front-and-center. Partners are what make this Network tick

Partners should also be able to learn about other Network partners on our site. However, this element may be better suited for an evolved version of the website beyond launch.

A "what we are/how we work/our approach" section is important and should be very easy to find
Site must be blog/newsroom-centric, our primary audience's reason for visiting our site is the latest policy/advocacy news/resources
The "Get involved" section should be prominent
KEY DELIVERABLES & SUCCESS FACTORS
A multi-page site that can effectively communicate RANA's voice to the world, including:

Homepage
Blog page for updates and news posts
"About Us" page to communicate our mission and vision
"Our Network" page for Network members to list information about themselves and learn about other partners
"Get Involved" page with engagement opportunities and information on the team, how to contact us, and hiring

Mobile-first design is critical; other success factors include:

Easy to navigate and intuitive
Easy to load for low-resource settings (i.e., areas with limited wifi)
True blog function that is visual and content-centric with easy social plugin integration (e.g., auto population of social posts and handles) across priority social channels
Easy to update and manage CMS

Imagery across site should have common look and feel
WEBSITE KPIS
Low bounce rate
Increasing time spent on site over time
Increased page views per unique user over time
XX unique visitors in the first month, followed by increasing number of repeat visitors over time (TBD)
Increasing subscribers to emails
Increasing conversions to key content (e.g., blog)
TECHNICAL SPECIFICATIONS
Mobile-first design
Optimized UX with low page load time
SSL cert maintained to allow for data capture
Analytics integration (current Google Analytics) maintained during any updates for ongoing reporting
CMS with ease of access for RANA team members including ease of access to content management and easy to use templates
Aligned with W3 best practice standards
Full-function blog with search function and issues menu to easily navigate our library of content (For reference see Pandemic Action Network's News page)
All content optimized to be easily shared (e.g., social bookmarks, click-to-tweet function)
PDF viewer integration to allow users to view and download content
Video integration optimized to embed from YouTube
Integration of staff pages with links to the content that they have written for the blog – to demonstrate thought leadership
Mailchimp integration to email
Cross browser testing given global diversity of audience
SEO throughout the project with long-term scalability (e.g., plugin integration such as Yoast)
DESIGN AND CONTENT SPECIFICATIONS
Clean, crisp, and modern
Common look and feel on imagery
Easy to read layout
Good readability with health literacy in mind
WEBSITES WE LIKE